Next year is going to be an amazing year for books we have so many that are going to be released. Now I only have four on my list that I am really anticipating for.
The Alchemists of Loom by Elise Kova this is a new series which I am looking forward to. I really enjoyed the Air Awakens series which is also by Elise so hopefully I will enjoy it. This is out on January 10th.
Source from Goodreads
Her vengeance. His vision.
Ari lost everything she once loved when the Five Guilds' resistance fell to the Dragon King. Now, she uses her unparalleled gift for clockwork machinery in tandem with notoriously unscrupulous morals to contribute to a thriving underground organ market. There isn't a place on Loom that is secure from the engineer turned thief, and her magical talents are sold to the highest bidder as long as the job defies their Dragon oppressors.
Cvareh would do anything to see his sister usurp the Dragon King and sit on the throne. His family's house has endured the shame of being the lowest rung in the Dragons' society for far too long. The Alchemist Guild, down on Loom, may just hold the key to putting his kin in power, if Cvareh can get to them before the Dragon King's assassins.
When Ari stumbles upon a wounded Cvareh, she sees an opportunity to slaughter an enemy and make a profit off his corpse. But the Dragon sees an opportunity to navigate Loom with the best person to get him where he wants to go.
He offers her the one thing Ari can't refuse: A wish of her greatest desire, if she brings him to the Alchemists of Loom.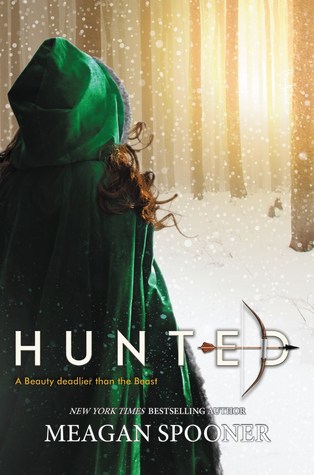 Hunted by Meagan Spooner is the first book in the Hunted series,this is out on March 14th. By the sounds of it this book is another beauty and the beast remake so I'm eager to get my hands on it.
Source from Goodreads
Beauty knows the Beast's forest in her bones—and in her blood. Though she grew up with the city's highest aristocrats, far from her father's old lodge, she knows that the forest holds secrets and that her father is the only hunter who's ever come close to discovering them.
So when her father loses his fortune and moves Yeva and her sisters back to the outskirts of town, Yeva is secretly relieved. Out in the wilderness, there's no pressure to make idle chatter with vapid baronessas…or to submit to marrying a wealthy gentleman. But Yeva's father's misfortune may have cost him his mind, and when he goes missing in the woods, Yeva sets her sights on one prey: the creature he'd been obsessively tracking just before his disappearance.
Deaf to her sisters' protests, Yeva hunts this strange Beast back into his own territory—a cursed valley, a ruined castle, and a world of creatures that Yeva's only heard about in fairy tales. A world that can bring her ruin or salvation. Who will survive: the Beauty, or the Beast?
I CAN NOT WAIT!!!! for this book A Court Of Wings And Ruin is out May 2nd which can't come quick enough. This is the third book in the A Court Of Thorns And Roses series.
Source from Goodreads
Looming war threatens all Feyre holds dear in the third volume of the #1 New York Times bestselling A Court of Thorns and Roses series.
Feyre has returned to the Spring Court, determined to gather information on Tamlin's maneuverings and the invading king threatening to bring Prythian to its knees. But to do so she must play a deadly game of deceit-and one slip may spell doom not only for Feyre, but for her world as well.
As war bears down upon them all, Feyre must decide who to trust amongst the dazzling and lethal High Lords-and hunt for allies in unexpected places.
In this thrilling third book in the #1 New York Times bestselling series from Sarah J. Maas, the earth will be painted red as mighty armies grapple for power over the one thing that could destroy them all.
This has to be on my list I have fallen in love with this series this year I read Talon at the beginning of the year and it has stuck with me. Legion is out on May 4th.
Source from Goodreads
 The legions are about to be unleashed, and no human, rogue dragon or former dragon slayer can stand against the coming horde. Book 4 of 5 in The Talon Saga from New York Times bestselling author Julie Kagawa.
Dragon hatchling Ember Hill was never prepared to find love at all–dragons do not suffer human emotions–let alone the love of a human and a former dragonslayer, at that. With ex-soldier Garret dying at her feet after sacrificing his freedom and his life to expose the deepest of betrayals, Ember knows only that nothing she was taught by dragon organization Talon is true. About humans, about rogue dragons, about herself and what she's capable of doing and feeling.
In the face of great loss, Ember vows to stand with rogue dragon Riley against the dragon-slaying Order of St. George and her own twin brother Dante–the heir apparent to all of Talon, and the boy who will soon unleash the greatest threat and terror dragonkind has ever known.
Talon is poised to take over the world, and the abominations they have created will soon take to the skies, darkening the world with the promise of blood and death to those who refuse to yield.
Thank you for reading, feel free to leave a comment down below.
What are your most anticipated books of 2017?